T-CAP 2014
Program & Compendium(PDF:329KB) / June 27 Meeting agenda / June 28 Meeting agenda
Meeting Summary Day 1 / Meeting Summary Day 2
DATE: June 27 (Fri) - 28 (Sat), 2014.
VENUE: Ito International Research Center in the University of Tokyo, Bunkyo-ku, Tokyo.
EXCLUSIVE ADVISOR: Kazuhiko Koike (The University of Tokyo, Japan)
PRESIDENT: Hiroyuki Isayama (The University of Tokyo, Japan)
OFFICIAL LANGUAGE: poor English

IMPORTANT DATES:
Deadline for abstract submission: April 1 (Tuesday), 2014.
Deadline for early registration: May 31 (Saturday), 2014.
REGISTRATION FEE:
Onsite registration: ¥15,000
Pre-registration: ¥10,000 Will available through website soon.
Industry person: ¥15,000
INTERNTIONAL INVITED SPEAKERS:
Myung-Hwan Kim (Korea), Amit Meydeo (India), Don Ki Lee (Korea), Peter Draganov (USA),
Manuel Perez Miranda (Spain), Arthur Kaffe (Australia),Norio Fukami (USA),
Do Hyung Park (Korea), Nonthalee Pausawasdi (Thailand),
Kazuo Hara (Japan), Reiko Ashida (Japan), Akio Katanuma (Japan)
INTERNATIONAL FACULTY MEMBERS:
Hsiu-Po Wang (Taiwan), Jong Ho Moon (Korea), Dong Wang Seo (Korea), Hu Bing (China),
Christopher Khor (Singapore), Thawee Ratanachu-ek (Thailand),Ryan Ponnudurai (Malaysia),
James Lau (Hong Kong), Sundeep Lakhtakia (India), Rungsun Rerknimitr (Thailand), Ang Tiing Leong (Singapore)
JAPANESE FACULTY MEMBERS:
Takao Itoi (Tokyo Medical Univ.), Ichiro Yasuda (Teikyo Univ. Mizonokuchi Hosp.),
Iruru Maetani (Toho Univ. Ohashi Hosp.), Keiji Hanada (Onomichi General Hosp),
Atsushi Irisawa (Fukushima Medical Univ., Aizu Medical Center), Masayuki Kitano (Kinki Univ.),
Hiroshi Kawakami (Hokkaido Univ.), Shomei Ryozawa (Saitama Medical Univ., International Medical Center),
Tsuyoshi Hayashi (Sapporo Medical Univ.)
CALL FOR ABSTRACTS:
The organizing committee invites submissions of original work related to interventional endoscopy for consideration of presentation at T-CAP 2014, from February 1 to May 1. We will accept 6 abstracts as oral presentation, and some as poster presentation. The abstracts must be submitted to SECRETARIAT by e-mail in English with contact information of corresponding author and must not exceed 250 words. Abstracts should include four sections: objective, methods, results, conclusion. Confirmation of acceptance or rejection will be e-mailed to the corresponding address by May 31, 2014. Authors of accepted as oral presentations will receive a travel grant ($1,000 for international attendees and $500 for domestic attendees) and waived registration fee.
SECRETARIST CONTACTS
Ms. Satoko Uchiyama
e-mail:tcap.adm@gmail.com
TEL: +81-3-3815-5411 (ext.33063)
FAX: +81-3-3814-0021
Access
Ito International Reserch Center / The University of Tokyo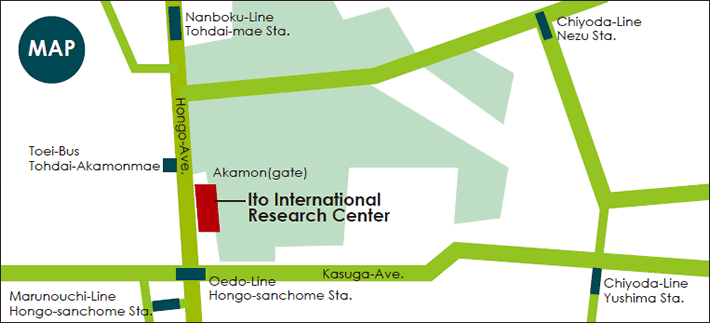 T-CAP2014 has ended with great success.
We deeply appreciated to all of you for your contribution for T-CAP 2014.
It was considered as great success, and we had totally 259 attendees; 163 doctors (Oversea: 36, Japanese: 127) and 96 company persons.
---